In Time... On Time... Every Time
Thanks for your interest in North Georgia Party Rentals. One of the most important aspects of choosing your party equipment provider is knowing whether or not they'll show up on time with the rental items you had planned for. We always provide on-time delivery and take extra care to make sure your rental order is delivered exactly as requested by professional drivers and delivery personnel.

We deliver to all of North Georgia and surrounding states. Please feel free to contact us with any questions regarding our delivery area(s) and location(s).

This is only a small list of communities we provide service to, so if you don't see your specific location listed and you have questions concerning party rental delivery, please contact us and one of our party pros will be happy to assist you. Please be sure to mention any delivery issues like narrow walkways, obstructions, an specific areas that may cause a problem for our trucks and delivery personnel. Knowing in advance will help us provide you with the best party rental service.
Online Reservations
Making your party and event reservations at NorthGeorgiaPartyRentals.com is fast and easy with our new online reservations system. Just click the link below and enter the date and times of your event. Then as you browse through the website you will be presented with only those items available on your date. You can also just explore all the categories and as you see items that are perfect for your party, just click the "Add to Cart" button on every product page, and build your party that way. That's it! It's easy as one, two, three! Let's get your party started now!
Get Started Here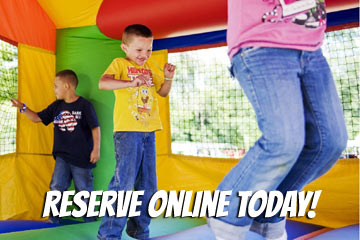 You Pick Up (Will Call)

Pick up and save when you rent select inflatables, games, and concessions. You pick up and return your rentals at our warehouse in north Georgia. We teach you on how to setup, and operate. We also offer multi-item discounts, flexible hours, and full weekend options for many items. Will call rentals start at 24 hours, and more time can often be added at little or no cost. Pick up and return is available weekdays from 9:30am-4:30pm. Saturday and Sunday pick up and return is usually only available on orders exceeding $600.00. With weekend will call rentals, you pick up during regular hours on Friday, return during regular hours on Monday, and you get a great low rate! Most bounce houses & combos, some slides, and many other games are available for will call. Most of them have a will call price listed in the item description. Just add anything to your quote request and we will provide you with the necessary information to make a decision.

Many companies will charge you for minor damage to your inflatables, or encourage you to purchase their insurance plan. We believe that is simply used as a hidden revenue stream for those companies. We do everything we can to make this as painless and affordable for you, so we accept most damage as regular wear and tear. In fact, under current ownership, we have never charged a customer for damage to their rental item! We even had a couple kids cut open an inflatable with scissors, and we repaired it at no charge to the customer! We can't guarantee we will never charge for damage, but that is our goal. We can offer you a damage waiver, on a case by case basis, if you are concerned about being charged for damage, but we don't push it on you.

You will need a truck, van or large SUV to transport any inflatable. Inflatables will NOT fit in a car. Even small inflatables are heavy, some over 300 lbs. We recommend you have two able-bodied adults to setup and take down.

We Deliver & Set Up

We offer three delivery options. This section is intended to show you the available options to help meet your budget and event needs. You don't need to make an initial selection here; we will review your quote request and make any necessary adjustments, as well as offer suggestions to best fit your event.

Full Staff – We take care of everything. We will deliver and set up, then stay on site to run all attractions that need to be staffed. This is the most popular choice for corporate events or anyone who wants all inclusive services.

Partial Staff – We take care of all setup and tear down, operate anything that requires trained staff, as well as any optional items that you would like us to staff. You save some money by staffing other items with your volunteers. A common example is a school event, where we might operate a mechanical bull, while school staff supervises a dunk tank and obstacle course.

Delivery Without Staff – We deliver, set up, ensure everything is operating properly, provide you with operating instructions, then return to tear down after your event. You provide supervisors for the activities. Some rides require our trained staff and, therefore, are not available without staff. Don't worry, we review all online quotes with you to verify that your event is properly staffed, or can call 770-415-0669 to speak with one of our team member. The "Without Staff" option is great for churches and schools that have adult volunteers to help run the event.

We deliver all over North Georgia, but restrictions and fees may apply. We'll let you know what options are available to you, and detail all costs after reviewing your wish list.